Chris Pasteryak Racing

Covering the
New England Dodge Dealers Legends Tour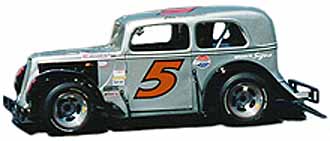 Next Event: April 29, 2000 Stafford Motor Speedway
The event scheduled for April 16 at the Waterford Speedbowl has been postponed. No reschedule date as of yet.
April 8, 2000-Waterford Speedbowl
Chris Pasteryak opens up the season at the Speedbowl with a win. He passed Shaun Buffington on the last lap to take down career win no. 2. He was followed to the line by Danny McNamara, Joey Civali, Shaun Buffington and Ben Seitz to round out the top 5. Division winners were Chris Pasteryak in the Semi-Pros, Danny McNamara in the Pros and Rit Spargo in the Masters.

any questions or suggestions to legcar5@hotmail.com

March 29, 2000
This Legends Cars Web Ring site owned by Darrell St. Jean.
Home | Driver Roster | Schedule | Results | Point Standings | Career Stats | Links